uhmm i acutally dont know how long will i keep writing entries since i keep failing to update whatever site i had for writing my daily stuff.. LOL
at work during my break time, i was so bored and was like hummfff,, how about taking pictures of the major stuff i bought in my 19th summer :)
no seriously im really broke right now :( ive been working my ass off for the past four months..
flying to LA to see super junior cost me alot of money. plus i paid my bf's :) :) :) and the sooner i come home, my desktop computer died. LIKE OMG!!! how am i supposed to get money to get a new one? LOL. so yeaa i thought i wouldnt survive.
and now that im really really lonely, i decided to just think about work and work and work and focus on work only... i thought the only way to get rid of your problems and heartaches is to be a workaholic person...~ sigh.
so yea these are some of the things i bought after regaining my wealth. LOL. oh i love credit cards <3<3<3
i decided to get a new notebook :) and i loved it cuz its pure red like OH MAMMA MIA! i just love computers..... i let my mom use the new destop computer i just bought 2 months ago as always. she always complains like why do i need 2 computers in my room when i am only one person. kekekeke. leave me alone and my comp passion :)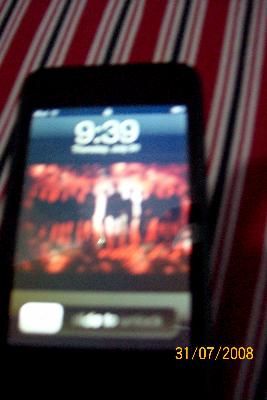 32g itouch. I LOVE IT. i use it all the time and of course it's filled with super junior stuff. LOL. i let some of my co-workers on breaks to watch it with me. they say im crazzzzy~
and my lovely nokia. i just bought it 2 days ago. and im loving it. i thought of getting iphone 3G but meeh it wasnt worth the money since i heard theres no video calling *pouts* here's the thing, i have co-worker who's korean. LOL. we're not that close but he knows im into korean pop... then we were having a lunch when my phone rang... LOL and my ringtone was
.
.
.
.
Leeteuk's "Iruke matub suhdo"..........
LOL. omg and he gave this WTF face LOOOOOOLLLOOLLL. and i was like "what? i told you i love super junior" HAHAHAHAH! omg... i could die laughing.
but anyways..... i have same bgs for the 3 of them. pretty much im lazy to do some photoshopping. i know its supposed to be "SAPPHIRE BLUE" but i drool over red, lemme have it my way. :)
now i have these 3 things to keep myself busy other than working and super junior....
.
.
.
.
.
.
how i wish theres no need for reality check. its painful :(